Experience the third chapter of the Kazuma Kiryu saga with restored content in 1080p and 60fps.
A year after the Kanto-Kansai all-out war, Kazuma Kiryu and Haruka Sawamura have left the unforgiving streets of Kamurocho for the island of Okinawa to run the Morning Glory Orphanage. Despite his efforts, shadows of Kiryu's past threaten to entangle the Morning Glory Orphanage in a deadly power struggle involving the Tojo Clan and political world.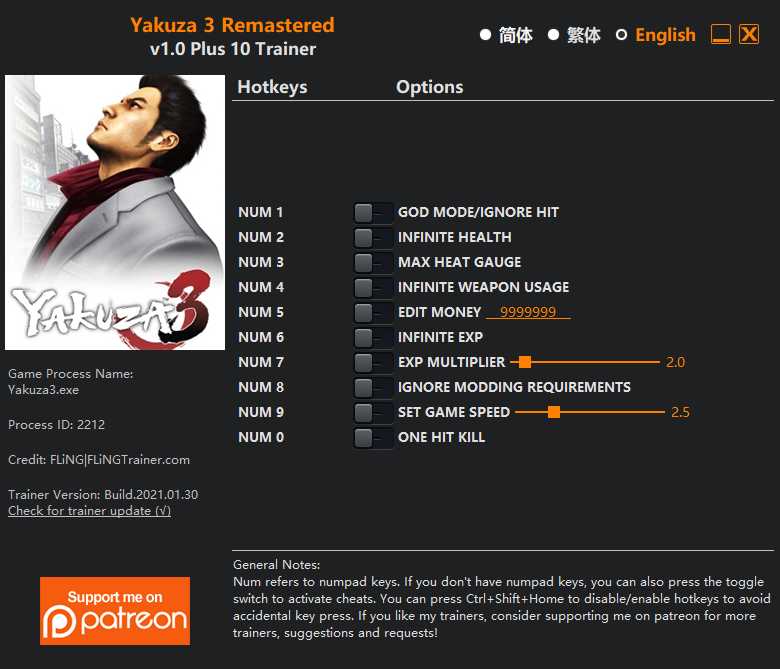 10 Options · Game Version: Steam/Windows Store v1.0+ · Last Updated: 2021.01.30
Options
Num 1 – God Mode/Ignore Hit
Num 2 – Infinite Health
Num 3 – Max Heat Gauge
Num 4 – Infinite Weapon Usage
Num 5 – Edit Money
Num 6 – Infinite Exp
Num 7 – Exp Multiplier
Num 8 – Ignore Modding Requirements
Num 9 – Set Game Speed
Num 0 – One Hit Kill
Notes
"God Mode/Ignore Hit": This will ignore most hits, except grabbing and range weapon attacks.
"Ignore Weapon Modding Requirements": When activated, you can mod weapons even if you don't have material.
"Infinite Weapon Usage": Note this will also lock destructible object's health, if you need to destroy blockage, you'll need to turn off this option.
Updates
2021.01.30: Added "Ignore Modding Requirements" option; Updated "Infinite Weapon Usage" option to work for most/all weapons.