2010, Tokyo. A shooting incident one night in a red-light district sets the city swirling with human desires and clamor. It was supposed to be a ""common incident"" for this town… until the appearance of one woman burdened with sorrow. As if drawn to a flame, men of the city's dark underground are gathered, one after another, at the door of the ""legendary yakuza"" Kazuma Kiryu.
As the fates of these four men overlap, the story of a miracle created by the passionate and violent way of life begins to takes shape.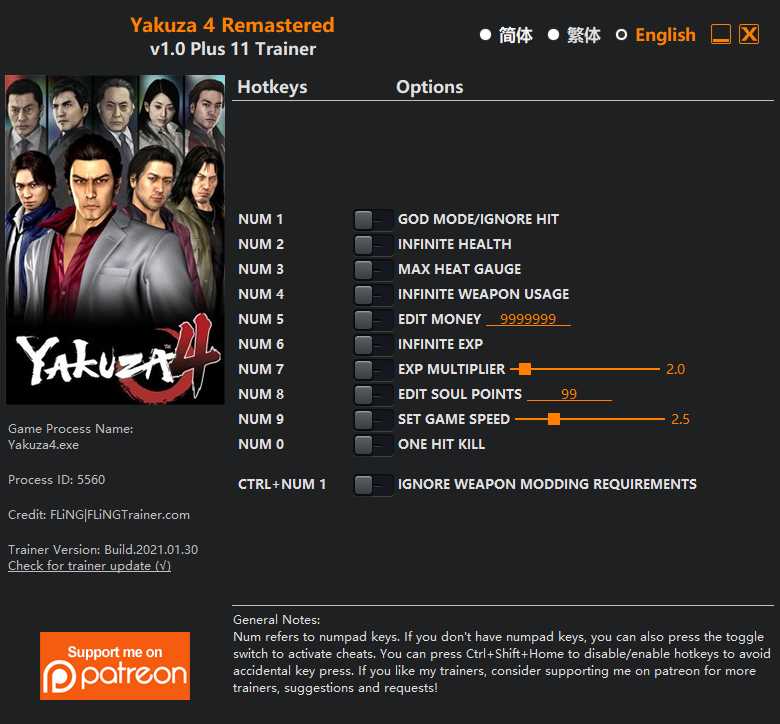 11 Options · Game Version: Steam/Windows Store v1.0+ · Last Updated: 2021.01.30
Options
Num 1 – God Mode/Ignore Hit
Num 2 – Infinite Health
Num 3 – Max Heat Gauge
Num 4 – Infinite Weapon Usage
Num 5 – Edit Money
Num 6 – Infinite Exp
Num 7 – Exp Multiplier
Num 8 – Edit Soul Points
Num 9 – Set Game Speed
Num 0 – One Hit Kill
Ctrl+Num 1 – Ignore Weapon Modding Requirements
Notes
"God Mode/Ignore Hit": This will ignore most hits, except grabbing and range weapon attacks.
"Ignore Weapon Modding Requirements": When activated, you can mod weapons even if you don't have material.
"Infinite Weapon Usage": Note this will also lock destructible object's health, if you need to destroy blockage, you'll need to turn off this option.