Captain Tsubasa: Rise of New Champions is an arcade football game bringing a refreshing look to the football genre with the exhilarating action and over the top shots.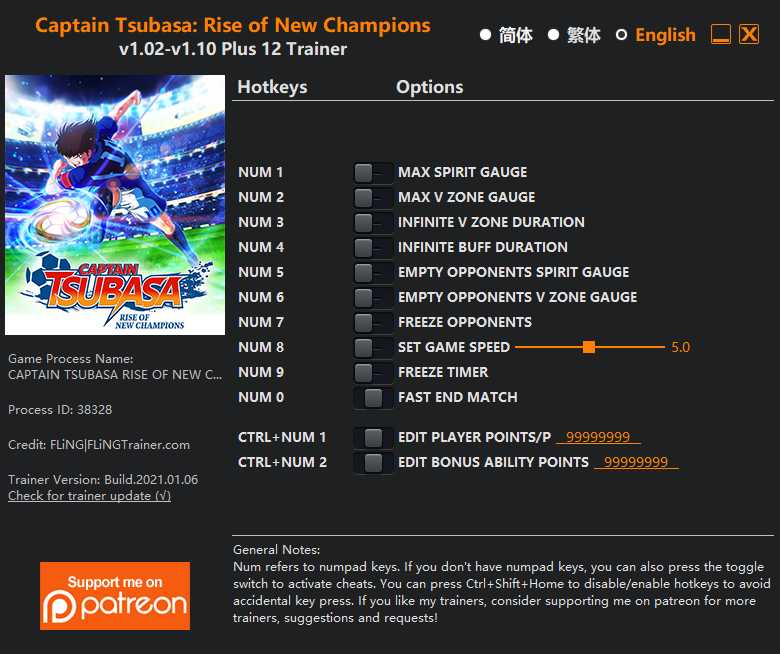 12 Options · Game Version: v1.02-v1.10+ · Last Updated: 2021.01.06
Options
Num 1 – Max Spirit Gauge
Num 2 – Max V Zone Gauge
Num 3 – Infinite V Zone Duration
Num 4 – Infinite BUFF Duration
Num 5 – Empty Opponents Spirit Gauge
Num 6 – Empty Opponents V Zone Gauge
Num 7 – Freeze Opponents
Num 8 – Set Game Speed
Num 9 – Freeze Timer
Num 0 – Fast End Match
Ctrl+Num 1 – Edit Player Points/P
Ctrl+Num 2 – Edit Bonus Ability Points
Notes
"Fast End Match": This option will set the match timer to a large value, note if the game has overtime, the current game session may not end immediately.
"Fast End Match": Note if "Freeze Timer" is enabled, the match may not end.
Special Notes
This game uses EasyAntiCheat protection, in order to launch this game without EAC, please follow these instructions:
1. Start steam in offline mode.
2. Copy "rename.exe" to game directory\GameData\ folder.
3. Start game.