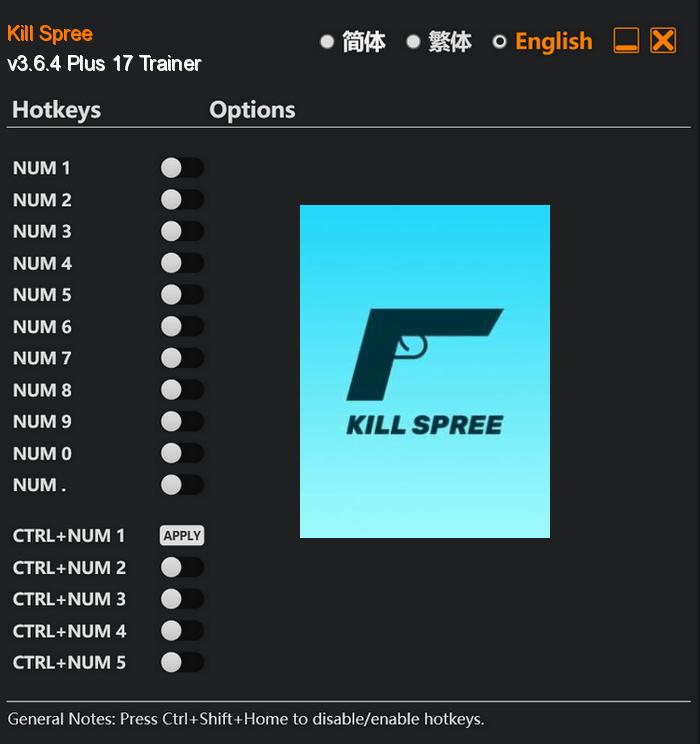 Kill Spree is an adrenaline-pumping first-person shooter game that throws players into the heart of chaotic mayhem within grand and awe-inspiring stadiums. As a highly skilled and heavily armed protagonist, you'll be thrust into intense, fast-paced battles against ruthless opponents from all corners of the gaming world. Prepare to embark on an epic kill streak as you navigate through intricately designed stadiums filled with towering structures, strategic vantage points, and exhilarating obstacles.
Visually, Kill Spree is a feast for the eyes. Immerse yourself in stunningly detailed and realistic stadiums, ranging from futuristic arenas to ancient coliseums. Marvel at the dynamic lighting effects that reflect off the gleaming surfaces and witness the destruction as bullets tear through the environments, leaving wreckage in their wake.
Special Notes:
This is a mod, not a regular trainer.
You must enable the mod named "FLiNG Trainer Mod" in Main Menu > Mod Manager in order to use the trainer/mod (If the mod didn't show up, try close and re-enter the Mod Manager).
You must use hotkeys to enable mod/cheat options during gameplay, activating cheats outside the game's window will not work.
Download:
Medias: