Mafia III: Definitive Edition includes the main game, all Story DLC (Faster, Baby!, Stones Unturned, Sign of the Times) and Bonus Packs (Family Kick-Back Pack and Judge, Jury & Executioner Weapons Pack) bundled in one place for the first time.
Part three of the Mafia crime saga – 1968, New Bordeaux, LA.
After years of combat in Vietnam, Lincoln Clay knows this truth: family isn't who you're born with, it's who you die for. When his surrogate family is wiped out by the Italian Mafia, Lincoln builds a new family and blazes a path of revenge through the Mafioso responsible.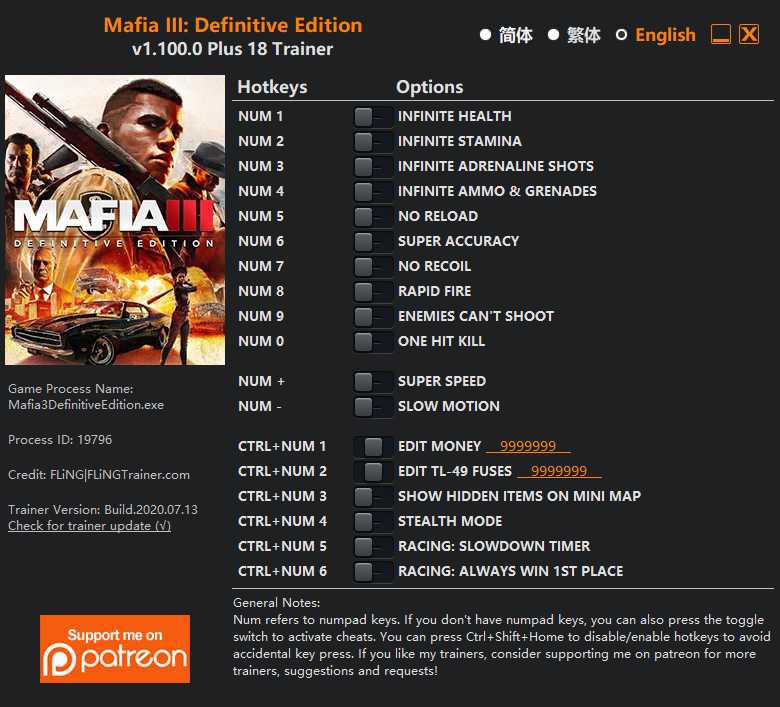 18 Options · Game Version: v1.100.0+ · Last Updated: 2020.07.13
Options
Num 1 – Infinite Health
Num 2 – Infinite Stamina
Num 3 – Infinite Adrenaline Shots
Num 4 – Infinite Ammo & Grenades
Num 5 – No Reload
Num 6 – Super Accuracy
Num 7 – No Recoil
Num 8 – Rapid Fire
Num 9 – Enemies Can't Shoot
Num 0 – One Hit Kill
Num + – Super Speed
Num – – Slow Motion
Ctrl+Num 1 – Edit Money
Ctrl+Num 2 – Edit TL-49 Fuses
Ctrl+Num 3 – Show Hidden Items On Mini Map
Ctrl+Num 4 – Stealth Mode
Ctrl+Num 5 – Racing: Slowdown Timer
Ctrl+Num 6 – Racing: Always Win 1st Place
Notes
"Infinite Adrenaline Shots" takes effect when you use adrenaline shots.
"Edit Money", "Edit TL-49 Fuses": Note the display values in the bottom left corner are not updated in real time. You may need to gain/spend some money/fuses in order to see the values change. You can also check the updated display values in map menu.
"Show Hidden Items On Mini Map": When activated, most hidden items will be displayed on mini map.
"Show Hidden Items On Mini Map": Note when using this option during missions, you may not be able to trigger some events. You can disable this option and load the last checkpoint to fix the issue.
Update
2020.07.13: Added car racing options.