The Barbarians of Grey Wolf have invaded the Silk Road for hundred years! Now they have sent troops to Shazhou with a purpose to capture the important site of Longyou, threatening the safety of tens of thousands of common people.
At this time, the Great Karma Scripture emerges and becomes the key to reverse the fate of Shazhou and even the entire Longyou trade route. The Barbarians are strictly preventing the monks (Scripture Escorts) from sending the Scripture to the Imperial Court, while all the forces in Jianghu who covet the Scripture's secret also go into action. The character's task is originally to help the decent sects escort the monks on their mission. However, he uncovers the secret of Scripture coincidentally after suffering a variety of trails and setbacks in ten days!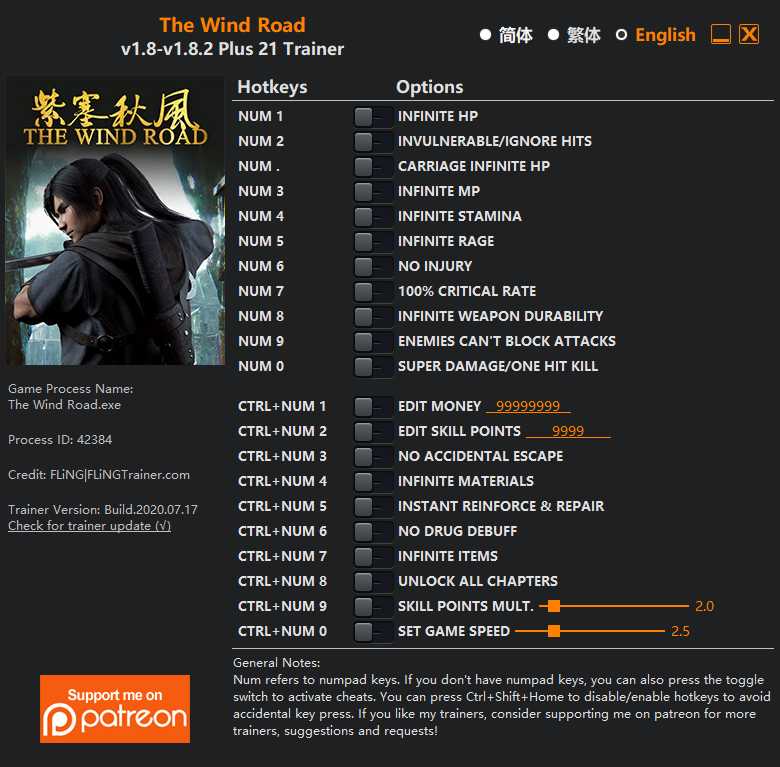 21 Options · Game Version: v1.8-v1.8.2+ · Last Updated: 2020.07.17
Options
Num 1 – Infinite HP
Num 2 – Invulnerable/Ignore Hits
Num . – Carriage Infinite HP
Num 3 – Infinite MP
Num 4 – Infinite Stamina
Num 5 – Infinite Rage
Num 6 – No Injury
Num 7 – 100% Critical Rate
Num 8 – Infinite Weapon Durability
Num 9 – Enemies Can't Block Attacks
Num 0 – Super Damage/One Hit Kill
Ctrl+Num 1 – Edit Money
Ctrl+Num 2 – Edit Skill Points
Ctrl+Num 3 – No Accidental Escape
Ctrl+Num 4 – Infinite Materials
Ctrl+Num 5 – Instant Reinforce & Repair
Ctrl+Num 6 – No Drug Debuff
Ctrl+Num 7 – Infinite Items
Ctrl+Num 8 – Unlock All Chapters
Ctrl+Num 9 – Skill Points Multiplier
Ctrl+Num 0 – Set Game Speed
Notes
"Infinite Items" only works for items with quantity greater than 1.
"100% Critical Rate" and "Super Damage/One Hit Kill" only work for weapon attacks, won't work for barehanded attacks.
"Edit Money" takes effect when you're in inventory menu.
Update
2020.07.17: Update for v1.8.2 game version.
2020.07.13: Added "Carriage Infinite HP" option.