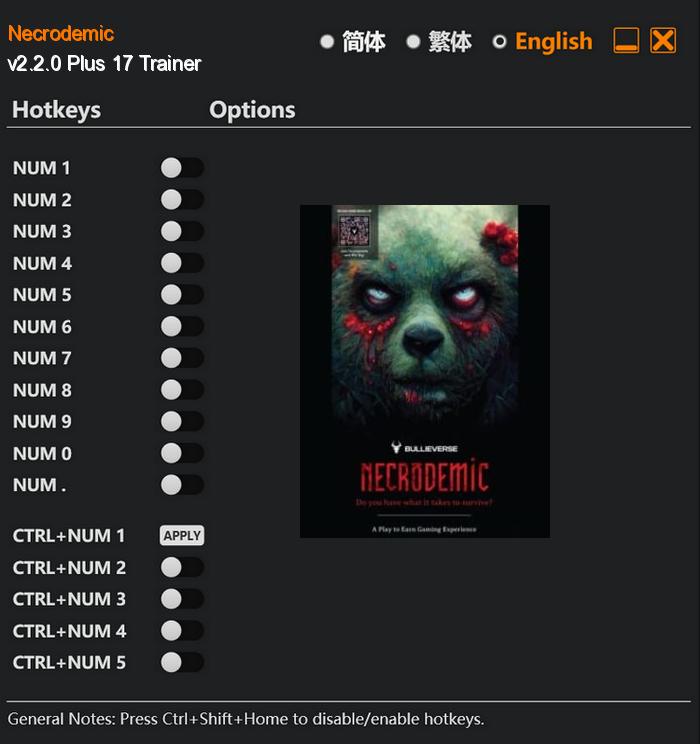 In the post-apocalyptic world of Necrodemic, players are thrust into a desperate fight for survival against hordes of undead creatures. As the last remnants of humanity struggle to reclaim their once-thriving cities, a new threat emerges – zombie bears. These lumbering monstrosities, mutated by the unholy chaos that blankets the land, pose a unique challenge for players to overcome.
Immerse yourself in the hauntingly atmospheric world of Necrodemic, where danger lurks around every corner and death is never far away. Unleash your skills, strategically utilizing your arsenal of weapons and accessories to outsmart your enemies and survive against all odds. Will you rise above the encroaching darkness and emerge as the ultimate survivor, or will you succumb to the unyielding forces of the necrotic epidemic? The choice is yours in this gripping and heart-pounding adventure.
Special Notes:
This trainer is based on Steam and Epic Store version. It can also work on Windows Store version, but it's not tested on Windows Store version, so I can't guarantee all options are compatible.
Download:
Medias: