The island is alive! Your newfound home will change with day/night cycles as you explore and uncover its secrets. Hunt (or be hunted by!) animals for food and an array of mythical enemies, who aren't necessarily pleased to see you. Get quests from a Mysterious Stranger or find them washed up on the shore. Prepare to trek into a procedurally generated wilderness, with a variety of biomes, for an adventure that's unique to every player.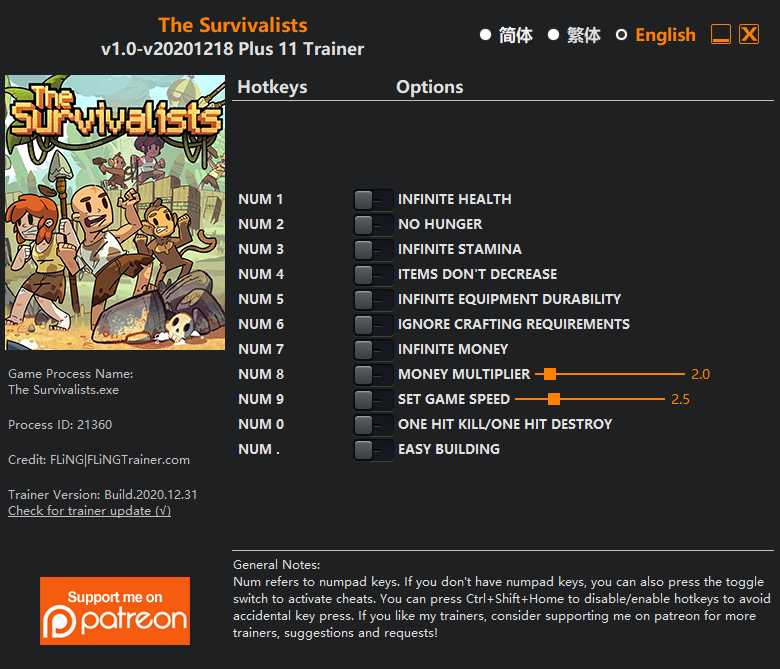 11 Options · Game Version: v1.0-v20201218+ · Last Updated: 2020.12.31
Num 1 – Infinite Health
Num 2 – No Hunger
Num 3 – Infinite Stamina
Num 4 – Items Don't Decrease
Num 5 – Infinite Equipment Durability
Num 6 – Ignore Crafting Requirements
Num 7 – Infinite Money
Num 8 – Money Multiplier
Num 9 – Set Game Speed
Num 0 – One Hit Kill/One Hit Destroy
Num . – Easy Building
Notes
"Infinite Health" takes effect when you receive damage.
"No Hunger": If you're already starving before using this option, you'll need to eat something to remove the starving effect.
"Items Don't Decrease": Note some tools (e.g. torch) may not work properly when this option is active.
"Ignore Crafting Requirements": When activated, you can craft items even if you don't have enough materials, but if you have materials, they will be consumed.
"Infinite Money" takes effect when you gain money.
"Easy Building" When you build stuff using blueprints, you can place only one material in the material stack, and you'll be able to start building.
Updates
2020.12.31: Update for v20201218 game version.