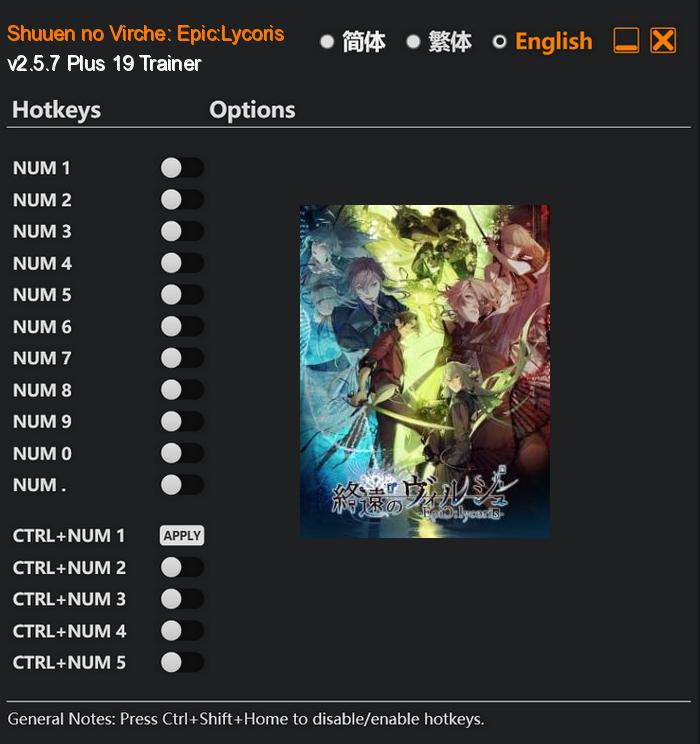 In the enchanting world of Shuuen no Virche: Epic:Lycoris, players are transported to a majestic realm where the fate of countless lives hangs in the balance. Acting as a fandisc for its predecessor, Shuuen no Virche -ErroR:salvation-, this gripping and emotionally charged video game takes players on an unforgettable journey towards eternal salvation.
Guided by a rich storyline filled with intricate twists and turns, players must navigate complex relationships and cultivate a deep understanding of their companions. The diverse cast of characters, each endowed with their own unique narratives and motivations, will captivate players as they unveil their innermost secrets and vulnerabilities.
Special Notes:
This is a mod, not a regular trainer.
You must enable the mod named "FLiNG Trainer Mod" in Main Menu > Mod Manager in order to use the trainer/mod (If the mod didn't show up, try close and re-enter the Mod Manager).
You must use hotkeys to enable mod/cheat options during gameplay, activating cheats outside the game's window will not work.
Download: