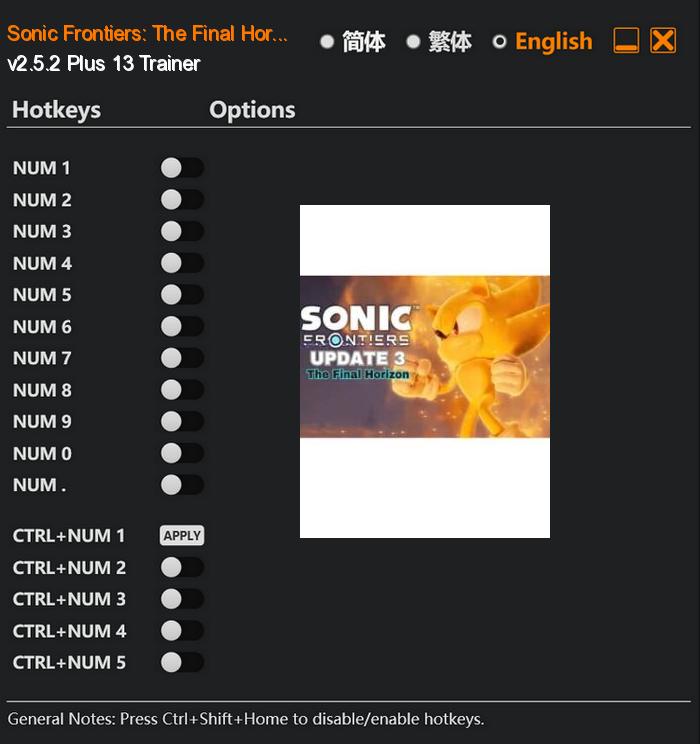 In Sonic Frontiers: The Final Horizon, players are invited to join Sonic and his friends on an exhilarating adventure like never before. This expansive and immersive game takes the beloved characters to new heights as they navigate through a vast and visually stunning world.
Play as Sonic, Tails, Knuckles, and Amy, each with their unique abilities and playstyles. Sonic brings his lightning-fast speed, Tails utilizes his intellect and flying prowess, Knuckles relies on his brute strength for powerful attacks, and Amy showcases her agility and acrobatic skills. Switch between characters seamlessly during gameplay, and combine their abilities to overcome obstacles and defeat enemies with style.
Special Notes:
This is a mod, not a regular trainer.
You must enable the mod named "FLiNG Trainer Mod" in Main Menu > Mod Manager in order to use the trainer/mod (If the mod didn't show up, try close and re-enter the Mod Manager).
You must use hotkeys to enable mod/cheat options during gameplay, activating cheats outside the game's window will not work.
Download: