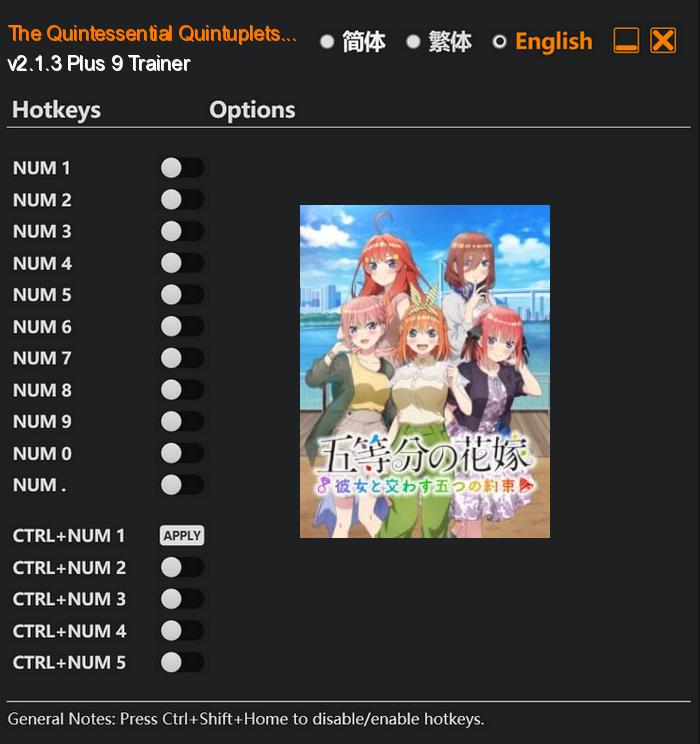 In The Quintessential Quintuplets: Five Promises Made with Her, players are immersed in the heart-pounding romance between Futaro Uesugi and his girlfriend during a memorable summer vacation. As the third installment in the beloved visual novel series, developed by MAGES, this game focuses on the excitement and anticipation of spending quality time together during the break from university.
Throughout the game, players will face decisions that will shape the course of the relationship, adding a layer of interactivity and allowing for multiple endings based on their choices. With each date, players must navigate the intricacies of romance, communication, and compromise, all while dealing with the challenges of maintaining a long-distance relationship. Whether it's strolling through vibrant streets, enjoying picturesque vistas, or sharing intimate moments, the choices made will influence the outcome and the couple's connection.
Special Notes:
This trainer is based on Steam and Epic Store version. It can also work on Windows Store version, but it's not tested on Windows Store version, so I can't guarantee all options are compatible.
Download:
Medias: