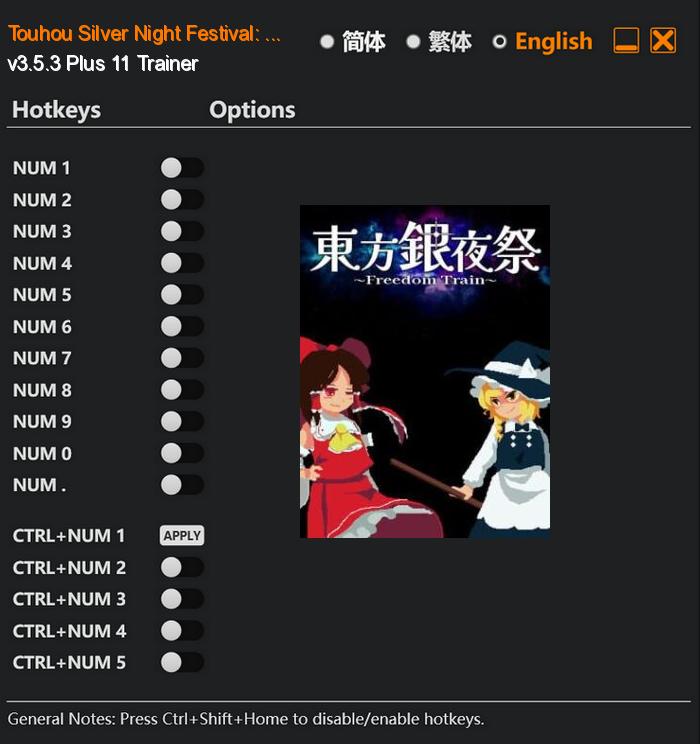 In the vibrant realm of Gensokyo, a fantastical land where humans and yokai coexist, a once-in-a-millennium event is about to take place: The legendary Silver Night Festival! This grand celebration, steeped in mystical energy, promises an experience like no other. As players, you will delve into the heart of Gensokyo and embark on an exhilarating adventure in the thrilling video game, Touhou Silver Night Festival: Freedom Train.
Get ready to face an onslaught of relentless enemies in the distinct bullet-hell style of gameplay that the Touhou series is celebrated for. The screen fills with intricate patterns of projectiles, demanding impeccable dodging and masterful strategic maneuvers to prevail. With upgraded Reimu at your command, you will revel in the thrill of dexterously navigating through intricate bullet patterns while unleashing devastating attacks upon your adversaries.
Special Notes:
This trainer requires MOD "Performance Booster and Plugin Extender" to bypass crc memory check/anti tamper in the game.
Download:
Medias: