Experience the fifth chapter of the Kazuma Kiryu saga in 1080p and 60fps.
In December 2012, Kazuma Kiryu left his past as a ""legendary yakuza"" and his place of peace in Okinawa.
He now spends his days as a cab driver in a corner of Fukuoka's red-light district, hiding his true identity. All for the sake of fulfilling the ""dream"" of an important person.
However, a disturbing atmosphere begins to drift through the supposedly well-balanced society of the Kanto and Kansai yakuza, emerging as a plot to drag all of the yakuza organizations in Japan to war.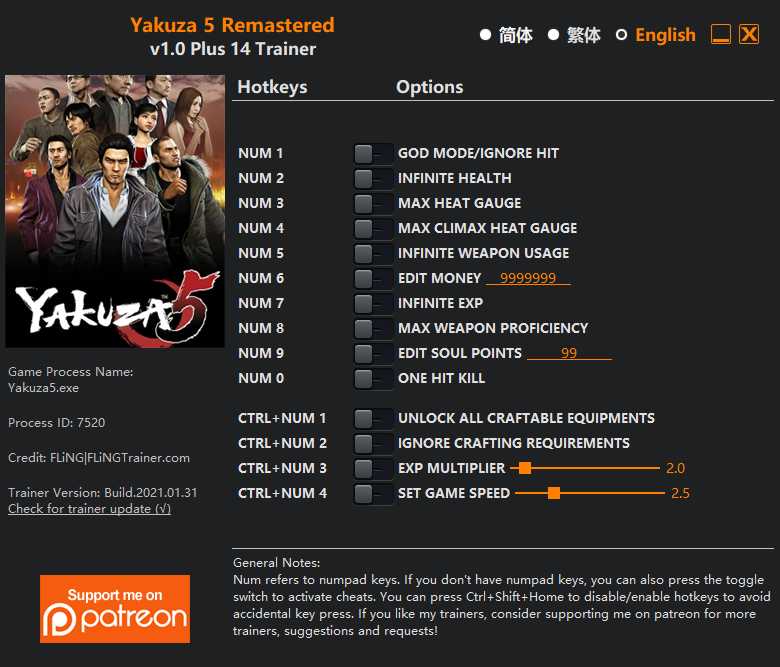 14 Options · Game Version: Steam/Windows Store v1.0+ · Last Updated: 2021.01.31
Options
Num 1 – God Mode/Ignore Hit
Num 2 – Infinite Health
Num 3 – Max Heat Gauge
Num 4 – Max Climax Heat Gauge
Num 5 – Infinite Weapon Usage
Num 6 – Edit Money
Num 7 – Infinite Exp
Num 8 – Max Weapon Proficiency
Num 9 – Edit Soul Points
Num 0 – One Hit Kill
Ctrl+Num 1 – Unlock All Craftable Equipments
Ctrl+Num 2 – Ignore Crafting Requirements
Ctrl+Num 3 – Exp Multiplier
Ctrl+Num 4 – Set Game Speed
Notes
"Max Weapon Proficiency": Takes effect when you gain weapon proficiency.
"Ignore Crafting Requirements": When activated, you can craft equipments even if you don't have material.